Dennis was a long time member of Scientology whose life was disrupted when he left the church and spoke out against the fraud he saw committed by Hubbard's cult.
While he was in Scientology, he was a high ranking Cramming Officer. His job was to make sure everyone followed Hubbard's policies to the letter. Dennis needed to know every Hubbard policy.
After leaving Scientology, his knowledge was put to use on the internet newsgroup, alt.religion.scientology. There he became one of the first people to to be able and willing to speak out about the inner workings of Scientology and its till then top secret materials.
Someone posted a Scientology document to the net and asked Dennis to comment of the authenticity of the material. Dennis' response included the automatic quoting of the original post. From this, Scientology was able to convince a judge that Dennis was posting copyrighted materials.
The judge issued a warrant allowing Scientology to raid Dennis' home and on a rainy day, February 13, 1995, they did just that.
Dennis phoned Priscilla Coates of the original Cult Awareness Network who alerted the media about the ongoing raid. The local TV station come with a camera crew and produced the video tape you see here.  Broadcast use of this footage is strictly prohibited.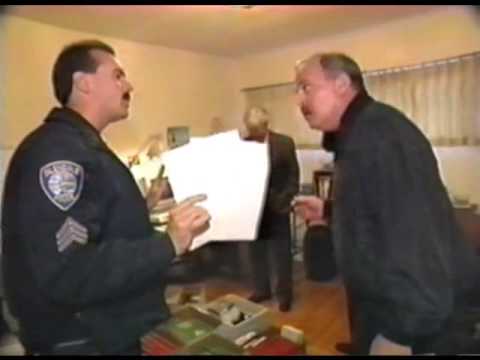 The local newspaper also ran a story on the raid and wrote an editorial about Scientology's actions. On May 15th, 1995, the BBC did a report on the raid featuring Dennis, critic Tom Klemesrud, Scientology attorney Helena Kobrin and Shari Steele of the Electronic Frontier Foundation.
http://video.google.com/videoplay?docid=4619310544380905392
Later, Dennis made a post to alt.religion.scientology describing the raid.
From: dennis.l.erlich@support.com
Subject: ILLEGAL SEARCH AND SIEZE
Date: Mon, 13 Feb 95 22:53:16 -0800

This morning at 7:30 am my doorbell was repeatedly rung by a man in a suit with papers. I didn't open and when he didn't go away I called 911. I was told by the 911 operator of the Glendale
Police that I had to let these people (there was a crowd of about 12) into my house because of a search warrant.

I went out on the front porch and talked to an on-duty Glendale police officer, Steve Eggett (badge# 12126). He informed me that\ I was required to permit these people to enter my house and search for copyrighted material.

Two armed off-duty officers from the Inglewood police department were working as rent-a-cops (Sgt. Ed Eccles and Officer Mark Fronterotta) for the private investigation firm of Robert Shovlin (PI lic P116086) of RJS Consultants. His firm was in the employ of Thomas Small, atty for Religious Technology Center. Small also entered my house. Warren McShane (an officer of RTC, the plaintiff) and Paul Wilmshurst (a scieno computer expert) also entered.

I objected but was told that they would use force if I resisted.

They presented me with 6″ of legal documents, one of which was a writ of sezure from a Northern Calif. Federal Judge – Ron Whyte. It is case # C-9s-20091 RMW.

They were in my house going through my drawers and every computer disk and file from 7:30am to 3pm.

They confiscated over 300 floppy disks. Two 120 meg Colorado tape back-ups of my hard disk and deleted any files on my hard disk that they wanted.

Potentially they copied all my personal correspondence, mailing lists, financial records and personal notes. Any one who has sent me anything in confidence must assume that it has been compromised.

The LA Times will run a story in the 14 Feb issue. Fox had a camera crew who videoed me begging the Glendale Police not to let them confiscate my material without me examining the disks and copies to see specifically what they were taking. I was refused the right to even look at what they had copied from my disk.

Criminals being arrested have more rights than these officers of my home town and of the court provided me.

I hope this at least shows what type of fascist organization I am attempting to expose.

Later,

Rev. Dennis L Erlich * * the inFormer * *
This and many other Dennis Erlich posts have been archived on the web by Tilman Hausherr.
After years of being targeted for abuse, Dennis reached a settlement with Scientology but his website remains online and he continues to help people with cult issues.
In May of 2001, Jesse Price stood trial in Clearwater, Florida for possession of a marijauna plant. Jesse could have accepted a plea bargain and paid a small fine but he decided to fight the charge to uncover Scientology's involvement in the case.
The trial was expensive and in some ways embarrasing but ultimately we were able to show just how far Scientology will go to attempt to destroy it's critics.
Several of Scientology's Private Investigators were forced to take the stand and testify. One of them, Brian Raftery, testified that he is paid $187,000 a year for following members of the LMT.
Furthermore, Scientology admitted to the press that they set out to damage Jesse's reputation through these investigators so they could undermine Jesse's testimony in the Lisa McPherson wrongful death civil suit. This is a very serious example of witness tampering.
Ultimately, Scientology's effort backfired as the local media condemned them for the set-up.
Judge Michael F. Andrews presided over the trial and allowed me to record the audio of the proceedings.
Scientology had me arrested by off duty Chicago police officers while I attempted to conduct a video interview of two dentists who had been defrauded by Scientology to the tune of $100,000.
The dentists had been trying for two years to recieve a refund of $20,000 for Scientology courses they had never taken. Scientology refused to give them the refund. After the dentists contacted the LMT, I flew up to Chicago to conduct an interview so the couple could share their story.
The Chicago Police Department had helped arrange a meeting between the dentists and the Chicago Scientology Org on the evening of January 25, 2000. I went along to videotape a brief interview with the couple before and after their meeting.
When we arrived at the Chicago Org, two off-duty officers, dressed in black leather jackets, ran out of the front door of the Org. They raced past the dentists and grabbed me by his arms. Within seconds, they had arrested me for trespassing even though I was on a public sidewalk the entire time.
After being placed handcuffed into the back of a squad car, I spent four hours in a jail cell at the Belmont and Western precinct until released on $75 bail. When I reclaimed my possessions from the police, everything was returned except my videocamera which had been placed into property lockup and supposedly shipped to another location.
The following day, I returned to get his camera and was sent from one location to the next before finding it back at the Belmont and Western precinct. When the camera was finally returned from the police lockup, the videotape had been removed from the camera. Although official requests were filed to protect the videotape as evidence, the tape was never recovered.
The State tried to place the blame for the disappearing tape on me or the dentists but the camera, which recorded the entire event and arrest, was running and recording as the police took it into their possession.
By the time I returned to Clearwater, Florida, Scientologist PR representatives Pat Jones and Al Buttnor had been showing my mugshot from the arrest to neighboring businesses, warning them that I was a criminal.
Scientology assigned Elliot Abelson, one of their top attorneys, to handle the case. He flew to Chicago repeatedly to hold meetings with the state attorney. He provided them with enough "Dead Agent" material to at one point convince them to add charges of disorderly conduct, resisting arrest and battery against a police officer and to treat the incident as a hate crime.
By the time the case went to trial it was once again a simple misdemeanor trespassing charge. Most such cases are thrown out as being too trivial to try in court or the defendant chooses to plea guilty for a small fine but Scientology put enough pressure on the State that they took it to trial.
I fought the charge and, in the end, won the trial. It took over a year for it to get to court and cost a lot of time, money and energy to prevail but it brought out into the open the tactics Scientology will use in an attempt to prove that their critics are "criminals."
In the end it took just 25 minutes for the jury to find me "Not Guilty."
The trial was held in Courtroom 15 of the Pinellas County Court House. The audio of the trial was recorded from the P.A. system controlled by Judge Michael F. Andrews who graciously granted us permission to record the proceedings.
While attempts were made to record the entirety of the trial, we were unable to record the opening statement of Lydia Wardell from the State's Attorney Office. The state's opening remarks are available in transcript form.
---
Day One – May 23, 2001
Denis deVlaming's Opening Statement
Denis explains to the jury that the arrest of Jesse Prince began with an extensive Scientology operation that started months before Jesse's arrest.
The first part of Denis' remarks are missing from the tape but are available in transcript form.
Detective Crosby's Testimony
Detective Crosby from the Largo Police Department was contacted by Scientology's Private Investigator, Brian Raftery. Crosby went undercover into Jesse's home alongside Scientology's PI, Barry Gaston.
Direct
Cross
Officer Michael Bruno's Testimony
Officer Bruno was the arresting officer who removed the single marijuana plant from Jesse's pool area.
Lab Technician's Testimony
Stacy Mace analyzed leaves from the plant taken from Jesse's pool area.
Request for Judgment of Acquittal
At the close of the State's case, Denis deVlaming asked for a judgment of acquittal.
Paul Johnson Appears on Behalf of the PIs
Paul Johnson appears before the judge to address issues raised by Barry Gaston's plan to plead the Fifth Amendment in his upcoming testimony.
Fifth Amendment Arguments
Judge Andrews allows Barry Gaston to plead the Fifth.
Barry Gaston's Testimony
Barry Gaston was one of the Private Investigators hired by Scientology's attorneys. He assumed the name "Rinzi Trinidad" and befriended Jesse and Dee. Gaston became a confidential informant for the Largo Police, then disappeared after Jesse's arrest. DeVlaming's Private Investigator, Ray Emmons, tracked down Gaston. This started to reveal the Scientology connection.
Gaston repeatedly took the Fifth Amendment on the stand. He would be signaled by the raising of a hand from his attorneys, Paul Johnson and Helena Kobrin.
Brian Raftery's Testimony
Raftery is one of Moxon and Kobrin's key Private Investigators in the Clearwater area, earning over $180,000 a year for investigating Scientology's critics.
Joseph Fabrizio's Testimony
Fabrizio is another of Scientology's Private Investigators. Gaston wrote reports to Fabrizio nightly concerning his ongoing operation against Jesse.
Day Two – May 24, 2001
Arguments Over Allowing Frank Oliver's Testimony
Part of the planned defense for Jesse involved the operation of Scientology's Office of Special Affairs and the Fair Game Policy. Frank Oliver had been a member of OSA and was prepared to testify about the tactics Scientology uses against it's perceived enemies. The State sought to limit Oliver's testimony.
Frank Oliver's Testimony
Frank Oliver was allowed to take the stand and testify with some restrictions.
Arguments About Allowing Rebuttal Witness
The State sought to bring Jesse's fiancé to the stand as a rebuttal witness. DeVlaming argued that she should have been used in the State's main case and not as rebuttal.
Dee Phillips Testifies in Proffer
The judge allows Dee to testify outside of the presence of the jury in order to see the relevance of her testimony.
Discussion of Jury Instructions
Judge Andrews takes a moment to discuss which instructions the jury would be receiving.
Arguments to Allow Dee Phillips Testimony
The State explains why Dee Phillips should be allowed as a rebuttal witness.
Judge Allows Dee Phillips' Testimony
Judge Andrews decides Dee can testify with a few limitations.
Dee Phillip's Testimony
Deneen Phillips tells how she and Jesse met "Rinzi Trinidad" and allowed him into their lives. Jesse, Dee and her two sons felt "Rinzi" was a close friend until they discovered he was a Scientology agent.
Direct
Cross
The State's Closing Arguments
Lydia Wardell tells the jury to focus on the law and not be sidetracked by other issues.
Denis deVlaming's Closing Arguments
Denis explains why Scientology is such a major part of this trial and can't be ignored.
The State's Rebuttal
The State has the final word.
The Jury Has Questions
The jury deliberated for several hours. Around 8:30 p.m. they had some questions for the judge. Judge Andrews shared these questions with the attorneys.
The Judge Allows Readback of Testimony
Judge Andrews had the court reporter read back the entire testimony of Detective Crosby. The readback took over an hour but is condensed here to about one minute.
The Jury is Restless
In this short clip, the judge announces that the jury is having a hard time with deliberations. After Judge Andrews shut off the audio feed, they discussed the fact that jurors were unsettled and even getting physically ill. He gave the jury a 20 minute break to go outside the building and relax.
The Judge Reads the Jury Instructions on Deadlocks
Soon after the jury returned from their break, they announced that they were deadlocked. Judge Andrews brings them in to tell them to give it another try.
The Judge Declares a Mistrial
Shortly before 10 p.m. the jury returned to the courtroom. Many were visibly distraught, some had seemingly been in tears. They announced that they could not reach a verdict.
Judge Andrews thanked them for their service and declared a mistrial.
I was arrested while trying to conduct an interview with two Chicago area dentists who had been defrauded by Scientology.
One year later, I stood trial in Chicago and the jury found him not guilty in 25 minutes.
Transcript:
Description of video is in italics.
Mark Bunker across the street from the Chicago org
MARK BUNKER: Ahh–January in Chicago! There's no better time and no better place than this to be arrested–take it from me! I'm Mark Bunker, and welcome to Xenu TV. Right behind me is the Church of Scientology Chicago org. Just two nights ago, this is where I was arrested.
William and Barbara Z. across the street from the Chicago org; Hubbard Dianetics Foundation logo–yellow lettering on blue background
WILLIAM: We had asked Mark to come with us and, uh, we were gonna ask permission for him to come inside and get our refund, our money back.
BARBARA: What happened was, two police, or two men–
WILLIAM: Plainclothes Joes–
BARBARA: –in black jackets jumped Mark and, uh, wrestled the camera from him, and we didn't know–
WILLIAM: They didn't announce that they were police, they didn't read him his Miranda rights.
MARK BUNKER: Yes, this is the place. Two nights ago right here I was on the sidewalk in front of the Chicago org when two off-duty police officers raced out, grabbed me and put me under arrest. Don't believe me? Watch the tape!
caption–"FOOTAGE MISSING"
MARK BUNKER: Oh, that's right, we don't have the tape because the police stole the tape! It's missing!
WILLIAM: Well, these two goons, these two guys in leather jackets, black–dressed in black, um, jumped Mark and were trying to get, uh, the camera away from him, and they were telling him, "Turn it off, turn it off, turn it off" so they knew the, the camera was on and the film was, was in there because it won't run without the film, and, um, then they were, uh, uh–he was asking them, "Well, why are you doing this to me? Why are you doing this to me? Leave me alone!" And, um, they said, "You can't film, you know, turn it off, turn it off, that's enough!". So they grabbed the camera and tried to push it on the ground, they threw his cell phone on the ground.
BARBARA: We didn't do anything. We were just standing outside of the building, he was behind us towards the street, away from the building. Two men came out of nowhere and jumped him. So I said, "You're not police, I wanna see your ID!" and they flipped me a badge and I said, "Well, let me look at it really good because I can't see it. Can you show me the badge?" And there was no face on it, it was rubbed off. So I said, "You're a fake police!" I said, "You're acting like this is Nazi Germany; this is America, you can't push somebody around who just has a camera! We didn't do anything!" I said, "What's your name?" and they said, "It's none of your business, lady, we're taking him in!" They handcuffed him and they were gonna take him to the police–I don't know where. I said, "Where are you taking him?" and he says, "It's not your business!" I said, "It is so, because I'm a citizen and I wanna know; he came with us. What is he charged with?" So one guy, he said–he told me his name was Joe Blow, he was, like, really cool, and, uh, the oth–the other one said, "We're taking him in for criminal trespassing." Then all the other police came, and then at that point we, you know, told them our story. But to make a long story short, they took Mark in handcuffed, no reason, never read him his Miranda rights, never identified who they were when they jumped him–and they took the film! The film is gone! So isn't that kind of funny? he film is just gone, it's missing. It took him a whole day to get his camera–plus the police were yelling at him, so…
BARBARA: Pam Vilinsky, who flew in from New York to talk to me, to try to pressure me into taking a small settlement for the money they owe me–she said that they hired these people to protect them. Now, the week before, we had an incident here and the police themselves made the appointment for us to go talk to them about getting our money back. So we had an appointment scheduled with them and they knew it, and they had this all planned. Because they don't want anyone witnessing what they're doing; they want to keep it hidden. They don't want people to know their link with dentists, chiropractors, optometrists, probably veterinarians, how they funnel them in for their business. I would have never–I'm Catholic, I would have never come to this church if I hadn't been funneled in here through Marcus Group, and that's a fact.
footage outside the Chicago org
MARK BUNKER (voice of): My arrest was an orchestrated attempt to frighten the Zizics into silence, and this, they didn't succeed.
WILLIAM: Well, I just feel as though I've been ripped off by the Church of Scientology and swindled out of my money and I intend to get my money back, that's my intention. And I will get it back. And I will tell my friends, all my dentist friends, um, about this Marcus operation and how they're a fear group for the Church of Scientology, you can be sure of that.
MARK BUNKER: So if you're ever in Chicago and you have a moment, take it from me, old number 396, stop by the org and tell them, "Xenu TV says hello!"
caption–"Dedicated to Officer Bonifazi and Officer Foria"
caption–"The Lisa McPherson Trust, Copyright 2000″
Transcript courtesy of Batchild
May 15, 2001 –Deposition of Jim Patterson, a private investigator hired by the defense, along with Ray Emmons, to locate Scientology PI's for this trial. Read more
November 17, 2000
STATE OF ILLINOIS
COUNTY OF C0OK
IN THE CIRCUIT COURT OF COOK COUNTY
COUNTY DRPARTMENT MUNICIPAL DIVISION
THE PEOPLE OF THE
STATE OF ILLINOIS
Plaintiff,
Case No.00 217168
vs.
BRANCH 46
MARK BUNKER,
Defendant
EXCERPTED REPORT OF PROCEEDINGS
BE IT REMEMBERED that the above-entitled atter came on for Hearing before the HONORABLE WILLIAM P. O' MALLEY, Judge of said Court, on the 17th day of November, A.D. , 2000. Read more
May 15, 2001 — Deposition of Ray Emmons, a private investigator hired by the defense, along with Jim Patterson, to locate Scientology PI's for this trial. Read more
2-05-01
CASE NO. OOMCl-217168
STATE OF ILLINOIS
COUNTY OF COOK
IN THE CIRCUIT COURT OF COOK COUNTY, ILLINOIS
COUNTY DEPARTMENT – MUNICIPAL DIVISION
THE PEOPLE OF THE
STATE OF ILLINOIS,
Plaintiff,
-V- No. OOMCl-217168
MARK BUNKER,
Defendant.
EXCERPT OF REPORT OF PROCEEDINGS of the trial before the Honorable WILLIAM P. O'MALLEY, Judge of said Court, on the 5th day of February, 2001. Read more
May 15, 2001 — Deposition of Brian Raftery, Private Detective hired by Scientology to surveil Jesse Prince. (Also, on this record is Scientology Attorney, Helena Kobrin, attempting to attend the deposition without identifying that she represents Scientology.)  PDF version 2.2 megs