The news broke a few days ago that two long time PI's for the Church of Scientology are suing the group after the church reneged on their lifetime commitment of employment.  C'mon guys, these former L.A. cops are mere wogs.  Their lifetimes are surely a drop in the bucket compared to the billion year commitment you get from all your Sea Org staff.
Attorneys for Paul Marrick and Greg Arnold said the church owes their clients for unpaid work, including casing the neighborhood of Ingleside on the Bay resident Mark "Marty" Rathbun, a former high-ranking church official.

Karin Pouw, a spokeswoman for the church based in California, said she had no comment because church attorneys had not had a chance to review the most recent lawsuit filing, received by the court clerk Thursday. It was filed in basic form, with few details, in July.

Rathbun defected from the church in 2004 and settled in the small bayside community where he began counseling other defectors, writing a blog criticizing the church, and fostering a movement of Scientologists who adhere to the philosophies of church founder L. Ron Hubbard but reject the practices of the organized church and its leadership.

For Ray Jeffrey, one of the attorneys for Marrick and Arnold, this is not his first brush with the church. He represented Debbie Cook, another former high-ranking church official who sent ripples through Scientology circles in a New Year's Eve email to thousands of Scientologists criticizing aggressive fundraising practices and calling for changes.

The church sued her in San Antonio, where she lives. Jeffrey helped negotiate a settlement in which Cook gave up no money but agreed never to speak out against the church. Yet the settlement came only after a day of embarrassing court testimony from Cook, reported by the Tampa Bay Times, in which she detailed how church workers essentially were imprisoned and beaten.Jeffrey said Marrick, 52, of Colorado, and Arnold, 53, of California, approached him because of his work on the Cook case and the difficulty explaining the complexities of the inner workings of the church.

"If you go try to tell a lawyer about this who has no knowledge of it, it could take them months just to get the lay of the land," Jeffrey said.

He is working with three other attorneys, including Tom Harrison, of Corpus Christi.
Joe Childs and Tom Tobin of the Tampa Bay Times reported on the lawsuit and have now done a lengthy interview with Marrick and Arnold who were hired in 1988 to spy on Pat Broeker, the man L. Ron Hubbard apparently chose as his successor to run Scientology.  Marrick and Arnold spent nearly the next 25 years following Broeker everywhere he went.
Church officials painted Broeker as an errand boy for the late Scientology founder L. Ron Hubbard. They said he had made off with $1.8 million and a cache of critically important Hubbard records.

Follow Broeker, they said. Watch him every minute. Report back frequently.

The private eyes did. Beginning in 1988 and continuing for a quarter of a century, Paul Marrick and Greg Arnold tracked Broeker from a California apartment to a cowboy town in Wyoming and even to the Czech Republic.

They spied on his girlfriends, rifled through his garbage and listened to his phone calls.

After 14 months, high-ranking church leader Marty Rathbun told Marrick and Arnold they had performed so well, the church would have work for them for the rest of their careers.

They were "part of the family," Rathbun told them.

The church started paying them a lump sum: $32,000 a month.

"We thought, 'Well, that sounds like a pretty good deal,' " said Marrick.

And the checks kept coming until this summer, when the church stopped paying.

Now, Marrick and Arnold are suing Scientology, claiming the church and its leader David Miscavige violated their long-ago verbal deal.

In a three-hour interview with the Tampa Bay Times in the office of their Texas lawyer, Ray Jeffrey, the investigators shared details of their top-secret work. They told a rollicking tale of espionage and described the expense to which Scientology went to gather intelligence on real and perceived enemies.

The investigators' lawyer says the church paid them between $10 million and $12 million. In addition to Broeker, they followed several other church targets, including a drug company executive who now is governor of Indiana — Mitch Daniels.
In addition to the print story, segments of Tobin and Childs' video interview have been posted on the Tampa Bay Times website.  In the video, the men explain that code names were used for all the parties involved.  David Miscavige was named the Duke, which seemed to please him mightily.
This looks to be a case that will quickly settle but the cat is now out of the bag.  After 25 years of following Broeker, the PI's concluded he was a nice guy with nothing to hide and a far cry from how the Duke had him portrayed.  25 years of hounding a man because the Duke was worried about his throne.
If only someone could come up with a science of the mind that could help the poor, little Duke.
You couldn't meet a nicer person than Susan Elliott who posts as "I'm Glib" at various forums and regularly protests at Scientology Orgs around Southern California.  The Orange County Weekly has an article about how those protests have led to attacks against her by the Church of Scientology which (of course) portrays her as a dangerous individual, acting in cahoots with a terrorist organization.
Laguna Beach resident Susan Elliott said she's among those whose efforts to combat alleged abuses in the Church of Scientology have been met with spy tactics and harassment at her doorstep.

"I've been followed a million times," said Elliott, 56, who is a computer programmer by trade but was wary to state where her business is located, out of fear that Scientologists would conduct operations there.

Elliott confirmed that she was spied on by Paulien Lombard, a former Scientologist featured in a recent OC Weekly cover story. In fact, she first confirmed the spying in a comment posted on in the online version of the story, where readers may recall how Lombard described sitting outside of Elliott's home for hours.

Lombard later apologized to Elliott.

"We invited her in and had tea, and sat in the living room and talked for an hour or so, and I was just amazed that she would do that — that she would come to us," Elliott said.
Read the full article and see Susan's Cease and Desist letter from Scientology.
Susan talks about the use of the Gold Tone in this video clip: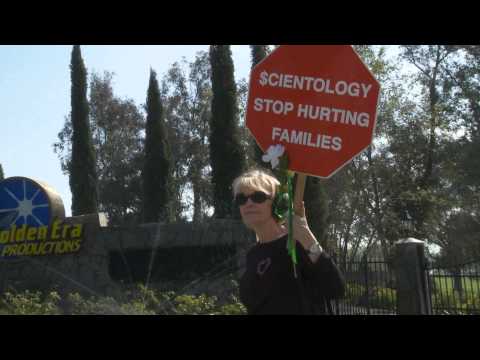 UPDATED with Scientologist's reactions below.
The St. Petersberg Times continues their terrific series of articles on Scientology fraud and abuse.  This time they focused on how Scientology coerced Sea Org members to have abortions in an article called No Kids Allowed.
Laura Dieckman was just 12 when her parents let her leave home to work full time for Scientology's religious order, the Sea Organization. At 16, she married a co-worker. At 17, she was pregnant.

She was excited to start a family, but she said Sea Org supervisors pressured her to have an abortion. She was back at work the following day.

Claire Headley joined at 16, married at 17 and was pregnant at 19. She said Sea Org supervisors threatened strenuous physical work and repeated interrogations if she didn't end her pregnancy. She, too, was back at work the next day.

Two years later she had a second abortion, this time while working for the church in Clearwater.

A St. Petersburg Times investigation found their experiences were not unique. More than a dozen women said the culture in the Sea Org pushed them or women they knew to have abortions, in many cases, abortions they did not want.

Some said colleagues and supervisors pressured them to abort their pregnancies and remain productive workers without the distraction of raising children. Terminating a pregnancy and staying on the job affirmed one's commitment to the all-important work of saving the planet.
Read the full report.
On Monday, they did a follow-up report:
Twenty years ago, when Natalie Hagemo was 19, pregnant and working for the Church of Scientology, she couldn't wait to be a mother.

She was near the end of her first tri­mester, she says, when colleagues in Scientology's military-style religious order, the Sea Organization, began pressuring her to get an abortion.

Two high-ranking officers said terminating the pregnancy would allow her to keep working. They berated her when she said no.

Supervisors told her to hide her expanding belly lest co-workers start thinking it was acceptable to get pregnant. Friends and colleagues shunned her.

Hagemo stood fast and, with her husband at her side, delivered Shelby on Aug. 20, 1990.

Hagemo left the Sea Org but remained an active parishioner and raised her daughter as a Scientologist.
Read the full report.
The St. Pete Times printed Letters to the Editor from Scientologists including this defense of the Organization from Joanie Sigal:
Once again you try to paint an ugly picture of a religious movement that has helped hundreds of thousands — if not millions — of people lead happy and successful lives. So let me address your latest falsehoods.

My experience in Scientology has been incredible.

I have been a member of the Church of Scientology since 1973. I met and married my husband while working for the church. I have raised two sons in the church. They are both practicing Scientologists. They have never taken drugs or abused alcohol. They are ethical and productive members of society. My husband and I have been married 32 years. We are both productive members of society. We both do extensive volunteer work in Clearwater.

THERE IS NO CHURCH POLICY CONCERNING ABORTION. I put that in all caps because I'm not sure that it will come across accurately if I don't. What's true about the Church of Scientology is not what any member or former member says. Even what I say is not the truth about the Church of Scientology. What is true is what L. Ron Hubbard wrote or said.

I know countless Scientologists who have children. I know hundreds — if not thousands — of staff members who have children. I know members of the Sea Organization who have raised children within that group.

Therefore your Sunday headline — No kids allowed — is a lie, pure and simple. But it is no less than what I expect from your newspaper.

I thank goodness that there are people in this society who do help others and who take responsibility for their own lives. The people you interviewed obviously don't do either.
What Joanie leaves out of her bio is that she was the personal assistant of one the ten top Scientology officials who went to prison for Operation Snow White at the time of the espionage scandal.   I captured her on tape decades later with Clearwater politicians at the opening of a refurbished alleyway next to Scientology's property.
http://video.google.com/videoplay?docid=8576290912419011832
And she can be seen hectoring Stacy Brooks about Bob Minton outside a City Council meeting in 2000.

August 14, 1998
OP/ED
Letter to the editor from Scientologist, Frank Offman
'True enemies'?
To the Editor:
The article of July 31 ("Antagonism leads to shotgun blasts"), mentions how Robert Minton of Sandown apparently shot at peaceful Church of Scientology parishioners without rational reasons -he claims he has been emotionally damaged by his brutal involuntarily incarceration into a psychiatric institution at the age of 16.
What led to Minton's involuntary commitment is not commonly known, but the residual hostility within him is very evident.
The goal of Scientology is a world without war, crime and insanity where the able can prosper and honest beings have rights. Scientology founder L. Ron Hubbard first released "Dianetics" The Modern Science of Mental Health" in 1950, followed by millions of Scientologists reporting miraculous successes from their application of Scientology methods to real life situations. Scientology is an applied religious philosophy that enables one to gain a greater understanding of their own spiritual nature.
In 1951 Hubbard's bestselling book, Science of Survival, exposed CIA-funded psychiatric mind-control experimentation, which used electroshock, drugs and hypnosis to program innocent people to become robotic assasins. Later these incidents were recounted in well-known publications and movies such as the Manchurian Candidate and Conspiracy Theory.
Minton stated on several occasions the irreparable damage psychiatry has had on his youth and his overall depression in life. Perhaps this is a similar story to that of the recent Capitol Hill gunman, Russell Eugene Weston Jr., who also had a long history of emotional problems before his frenzied shooting.
Who can tell what really set Minton off to fire a shotgun at peaceful Church parishioners who were merely asserting their freedom of speech? Did he just take on the colors of the psychiatric enemies he was trying to fight? It was fortunate that the skilled police officers of Sandown arrived early enough on the scene to handcuff Mr. Minton and protect him against himself and others,
For several decades, the Church of Scientology has worked shoulder to shoulder with government and private agencies to expose and eradicate illegalities in the field of psychiatry, including fraudulent involuntary commitment. Many of these activities were followed by shutdowns of these asylums.
The Church of Scientology remains dedicated to eradicating psychiatric abuses such as occurred in Minton's case and hopefully Robert Minton one day will come to realize who his true enemies were.
FRANK OFFMAN
Public Affairs Director
Church of Scientology
Local man helps many leave Scientology
Church says he distorts truth
by Lara Bricker, Staff Writer
July 31, 1998
Sandown – Just who is 51 year-old Robert Minton, and why has he spent almost $2 million dollars helping people he feels have been victimized by the Church of Scientology?
If you ask him, the Boston resident who owns a summer home on Fremont road in Sandown will tell you it's because he doesn't believe in Xenu, an evil galactic overlord who controlled nine planets in this section of the galaxy 75 million years ago and then decided to do a little population control by wiping out 7 billion people.
It is something Minton contends Scientologists are taught. And it's an expensive lesson, he says, costing as much as $360,000 to get to the top levels of the church.
According to Minton, Scientologists are taught that Xenu injected all the "bad" people with glycerol and alcohol, froze them and then sent them in rocket ships to Teegeak (the Scientologists' name for Earth) where they were deposited in volcanoes on the Canary Islands and Hawaii.
Minton feels the methods used by the church brainwash people and, after extended exposure to these techniques, the critical thinking capabilities of their brains are shut down.
"By the time they learn about Xenu, it wouldn't matter if the story was a thousand times more bizarre." Minton says. "You're not able to think, to make critical decisions. It's really chilling what these people do."
After learning of what he calls an illegal attempt by the church to remove a Web site containing information taken allegedly from their sacred scriptures, he began to study the church.
"What could be said about somebody that's so bad that they try to stop free speech," Minton said was his initial thought.
Kevin Hall, human rights officer for the church's Boston location, said the reason the church was upset about the information on the Web site was it had been altered and was untrue.
After the untimely death of church member Lisa McPherson in 1996, Minton said he became more concerned about what was going on in the church. He said McPherson was locked up for 17 days in a Scientology headquarters in Clearwater, Fla., when she was in need of medical aid.
"I thought this was pretty appalling," Minton says. "We got together and said we're not going to let this get swept under the carpet."
Minton felt moved to pay the attorney fees in a wrongful death suit McPherson's parents filed against the church. Since then, he has assisted others he feels have been victims of the church.
He bought a house for Stacy Young and her husband who ran a shelter for cats, which was shut down, Minton said they feel, as retribution for their leaving the church.
Minton is currently preparing to assist another church deserter who, Minton said, plans to come forward with information about what goes on within the confines of Scientology. One of those former church members who doesn't want his identity or whereabouts revealed, has information that apparently upset the church, Minton said.
When contacted by phone, the former church member described Minton as an angel come to help him.
Hall said Wednesday, Scientologists question the methods used by psychiatrists, especially the involuntarily commitment of individuals to institutions.
"When they do it involuntarily, it's pretty un-American and un-constitutional," Hall said. "Drugging is merely masking problems and leads to addiction. Mental instability is usually something physical." Hall added, "that's what we're fighting."
A retired investment banker, Minton has returned to Sandown for the past eight summers and, until last weekend, church protesters have not targeted his rural home, although they have picketed his Boston residence.
The Church of Scientology is skeptical of Minton's motives, and a spokesperson said he wants to know why the Sandown summer resident is on a crusade to reform the church and why he is "spreading lies." "He's trying to destroy the church," said Hall.
Minton says the mind-control techniques the church uses could account for why people haven't come forward until now. He says the church instill fear in members.
"you can become outside your body, can control matter, energy and space," he said church members are told. "If I don't like you, I can with my eyes kill you."
Hall says Minton fails to recognize the good work the church has done.
"When he spreads things, he certainly doesn't talk about literacy programs, criminal rehabilitation programs in inner cities around the country," Hall says. "He's not a nice guy."
Although the estimated number of Scientologists in New Hampshire doesn't even make a dent in the estimated 8 million members worldwide, Hall says they are around. He says there is a small mission in Concord and estimates about 500 members live in New Hampshire. Due to the size of the New Hampshire mission, Scientologists have had to leave the state to reach the highest levels of the church, he said.
Two of the protesters who picketed outside Minton's Sandown home last weekend live in Newfields.
Part of the allure of Scientology, Minton said, is the fact that several well-known actors who have joined the church: Tom Cruise, John Travolta and Lisa Marie Presley, to name a few. He said the celebrity names make people think if people like that are involved it must be legitimate.
Hall says the philosophy of the church centers on helping people and improving their ability to deal with and live their lives. As for the skeptics, he says, they should not listen to Minton's claims.
"The church has a long track record of improving life. Millions of people attest to it," Hall said. "What people should do is look at the material on Scientology and think for yourself; learn to understand life, think for yourself."
Sandown Police: Shots Fired in Spat With Protesters
By Hope Ullman – Union Leader Correspondent
July 28, 1998
SANDOWN — A longtime opponent of the "Church" of Scientology allegedly fired two shots into the air Saturday after telling "Church" of Scientology members — who had been picketing outside his summer home on Fremont Road — to leave his property.
Robert Minton, a longtime "church" opponent and defender of those he believes have been victimized by the "church," fired a 12-gauge shotgun into the air after asking four pickets and a private detective hired by the "church" to leave, Police Chief Scott Currier said.
Although Minton has apparently seen his share of Scientologists picketing outside his Boston home, this was the first such incident in Sandown, Currier said. Officer Ben Pinault responded to the scene after hearing the shots.
"He had seen picketers out there earlier in the day, and we are somewhat aware of the conflict between Mr. Minton and the 'Church' of Scientology," Currier said.
The protesters were gone when police from Sandown, Chester, Fremont and Danville and two state troopers arrived. Asked why so many law-enforcement officers responded, Currier said, "We know they've had an ongoing feud between them. We didn't know what we were dealing with, so we prepared for the worst. … We spoke to Mr. Minton and took custody of the firearm for the night just for everyone's safety." The incident remains under investigation. Currier said neither side had filed a complaint yesterday, and no charges were expected. However, a man who identified himself as Gerard Renna, one of the Scientologists who protested, said he plans to file a formal complaint against Minton today.
"We did a peaceful demonstration. He shot the gun," said Renna, who phoned a reporter yesterday. Renna said he's tired of Minton "going on 'Dateline' and spreading lies about the 'church.' I'm just a little fed up. He's been a little un-American."
Attempts to contact Minton yesterday were not successful.
Minton has organized demonstrations against the "church" before, Renna said, so Scientologists should be allowed to do the same.
"A Scientologist is just one who tries to better his conditions in life" through the teachings of the "church's" founder, L. Ron Hubbard, Renna said. "I don't understand why someone would want to attack a fast-growing[sic] religion[sic]." According to Kevin Hall, human-rights[sic] officer for the "Church" of Scientology in Boston, the "church" is "a religious[sic] philosophy that deals with improving[sic] life and helps[sic] individuals develop themselves mentally and spiritually[sic] and use their full potential by increasing the ability to communicate, study better and realize the potential (they) have."
Hall said he does not understand the basis of Minton's protests against the "church."
As for Saturday's protest, "There were some people very upset about what he's been pushing in the media," Hall said. "He's basically been funding a group of people to attack us through the media and courts…." Hall alleged that after the protesters knocked on Minton's door to tell him they were protesting, Minton told them to leave; they did, and he then allegedly fired the shots into the air.
According to a July 9 report in the Boston Globe, Minton has endured numerous protests outside his Boston home by Scientologists who have reportedly written and distributed fliers containing attacks against him, in addition to hiring private detectives to investigate his past. Minton reportedly questioned whether Scientologists were responsible in the past for many odd incidents, such as a dead cat he once found on his Sandown doorstep. "Church" officials denied any involvement in that incident.
Minton, a multimillionaire, has devoted much of his post-retirement life and funds to helping those he alleges were victimized by the "church." Asked why, Minton told the Globe he believes in the First Amendment; he has the money to fight the "church" and its alleged harassment of former members; and he can't forget being locked up in a mental institution for several days at age 16 against his will.
According to the Globe story, that experience led to his interest in the case of Lisa McPherson, who, Minton and other Scientology detractors allege, died after being locked up for 17 days in a Scientology-owned hotel in Clearwater, Fla. Minton reportedly paid for an attorney for the family of McPherson in a wrongful death suit against the Scientologists. "Church" officials denied responsibility for her death.
"I was never a member of the group, but I'm involved because I believe everyone has the right to believe what they want," Minton told the Globe.
"People don't have the right to have their minds controlled and manipulated in the way the Scientologists manipulate people. I'm so incredibly shocked at the pain the Scientologists can cause people. It's so obvious that Scientology, like other groups and cults, causes a lot of devastation," he said.
Police Chief Currier said his main concern is for the safety of all residents.
"We don't know what to expect," Currier said. "There's a lot of rumors and innuendoes … so we don't really know how far this is going to go." Hall said the "church" is a peaceful organization.
"As far as I'm concerned, if the 'Church' of Scientology and Mr. Minton have problems, they should keep it between the two of them and take it to a courtroom, and they shouldn't be playing high school games and getting the rest of the community involved," Currier said.
"I would say that both sides are pushing their luck, and are pretty close to crossing the line in terms of breaking the law. The 'Church' of Scientology had no business being on his property, and Mr. Minton had no business discharging a firearm into the air."

Incensed by Scientology's ways, millionaire is bent on forcing change, even though he's not a member
By Patti Doten, Globe Staff
July 9, 1998

Robert Minton is a multimillionaire who retired in 1992 at age 46. He has a wife, his third, and two bright young daughters. He lives in an elegant town house on Beacon Hill filled with antiques and Oriental rugs. He also owns a weekend home on several hundred acres in Sandown, N.H.
So why has this self-made man chosen to do battle with the Church of Scientology instead of sitting back and enjoying his financial success and a peaceful, family existence? And why, especially, when he has never been a church member?
Because, he says, he believes in the First Amendment; has the money to fight the church and what he calls its harassment of critics and former church members; and because he cannot forget being locked up at age 16 in a mental institution against his will.
His crusade, costing $1.5 million to date, has not been without its repercussions and has had a direct effect on his and his family's life.
Since last fall Minton has been greeted with anti-Minton fliers written by Scientologists and dropped on his and his neighbors' doorsteps or pinned to trees lining the quaint streets ofhis upscale urban neighborhood. He's looked out his windows to see groups from the church picketing his house. And he's had detectives hired by the Scientologists checking every phase of his background both here and abroad – and this has affected the relationship between Minton and his mother and son. But what he found most disturbing were the anti-Minton fliers distributed while he was vacationing with his family on the Caribbean island of St. Barts in March. After a day at the beach, Minton returned to his car to find the church's calling cards on his and more than a dozen other windshields.
"People ask me why I'm involved in all this when it isn't my fight," says Minton, during an interview at his home and over lunch at a Charles Street restaurant. "I was never a member of this group but I'm involved because I believe everyone has the right to believe what they want.
"People don't have the right," continues Minton, his words becoming more impassioned with each sentence, "to have their minds controlled and manipulated in the way the Scientologists manipulate people. I'm just so incredibly shocked at the pain Scientology can cause people. It's so obvious that Scientology, like other groups and cults, causes a lot of devastation."
Advancing through audits
The Church of Scientology was founded in 1954 by L. Ron Hubbard, a prolific science-fiction writer who died in 1986. In his teachings, Hubbard described humans as clusters of spirits that had been trapped in ice and banished to Earth 75 million years ago by an intergalactic ruler. Through self-help techniques and counseling sessions known as auditing, Scientologists believe they can live more productive lives. But the often substantial costs of these sessions has drawn criticism over the years and in 1967 the IRS revoked the tax-exempt status that the church had been given in 1957. The IRS reversed that decision in 1993.
"Scientology means the study of knowledge and it recognizes that the person himself is a spiritual being and he has a mind and he has a body," says Heber C. Jentzsch, president of the Church of Scientology International. "And Scientology is not a dogma, it is a route, a way, rather than a dissertation or an assertive body of knowledge. We believe man is basically good."
For six months, Minton says, he has become the church's "numero uno" target and he in turn has slowly made Scientology the focus of his time, energy, and money. He has a growing suspicion that church members are responsible for personal belongings that have disappeared and other odd incidents.
He wonders, for example, if the Scientologists are responsible for a dead cat he found on his doorstep in New Hampshire. And he wonders if they stole his laptop computer and address book from the trunk of his rental car in California, where he'd gone to picket the church's April celebration of Hubbard's birthday.
Jentzsch acknowledges that the church hired detectives to look into Minton's past, had an attorney contact him, and that Scientologists did distribute fliers in Boston. But he denies any church involvement in the cat and computer incidents.
Despite these incidents and the pressures on his family, Minton, who made his fortune trading in the debts of Third World countries, says he will continue his anti-Scientology efforts indefinitely.
"The harassment began last fall after I bought a home [for $260,000] for a couple, former Scientologists, who were being hounded by the church in Seattle," says Minton, who became interested in the church while surfing the Internet in the spring of 1995. "At that time, I got a phone call from a lawyer named Elliot Abelson, a heavy-hitting attorney who works for the Scientologists.
"He asked if I were surprised to hear from him. I said no because I knew he was representing the church. He then asked why someone like me with a stable life and family and financial means would want to get involved with the Scientologists. He clearly was giving me a veiled warning."
Minton said he was more curious than fearful about the call and expected to hear further from Abelson. But he did not.
Jentzsch confirms that Abelson did call Minton because he wanted to know why Minton "started bankrolling individuals litigating against the Church concerning matters in which he had no apparent interest."
Then the fliers and picketing began. The investigation into his background started after he paid an attorney for the family of Lisa McPherson in a wrongful death suit against the Scientologists. McPherson died after a 17-day stay in a church-owned hotel in Clearwater, Fla. According to published reports, church officials say that McPherson was under 24-hour watch at the hotel during which time she spit out food, banged violently on the walls of her room, and hallucinated. The county medical examiner said McPherson was deprived of water for at least her last 5 days and died of a blood clot brought on by severe dehydration. Church officials deny responsibility for her death.
Kennan Dandar, the attorney for the McPhersons, says he is preparing to take the civil suit to trial early next year.
Going public
But it was the fliers that have been the most public and vitriolic. Some of the accusations:
" Robert Minton, of … West Cedar Street, has given $1.25 million to complete strangers to destroy a religion while his own mother lives on Social Security." "Like many hate mongers, he has a history of psychiatric problems. But a troubled past is no excuse for leading KKK-style rallies and spreading poison on the Internet about a peaceful religion known for its helpful literacy and drug r ehabilitation programs."
"Mr. Minton refuses to help his own son with a loan to purchase a house, yet forked over $1.5 million to fund the members of a known hate group in a campaign to create intolerance & hatred."
"Mr. Minton acts like a bully to anyone he can manipulate with his money. His second wife left him rather than put up with his brutal beatings."
The first of these fliers was unsigned, succeedings ones, with the exception of the St. Barts missive, carried the following identifier: This is written as a public service of STAND (Scientologists Taking Action for Non-Discrimination).
"The fliers never really bothered me because I knew that if you tell lies often enough, someone is going to believe them," says Minton. "I know some people are going to believe some of what has been said about me. But what can I do? I'm not a member of the truth police. Sure, I could pass out my own fliers. But I won't. I'd be a basket case if I worried about what the Scientologists say about me and what people believe. And yes, I'm relatively confident about who I am. Perhaps you might say arrogant. I think I drive them crazy. I think they find my attitude extraordinary."
Burden on his family
But the effect on his family has been an issue, especially for older daughter, Katherine. Drawing attention to oneself at age 12, Minton says, is something every preteen tries to avoid. Having picketers in front of your house can bring nothing but embarrassment to a young girl, says Minton.
"I've told my girls that, yes, their dad is different," says Minton of Katherine and Sarah, 10. "I've explained that I'm just not prepared to let these guys act like predators on people who are trying to exercise their most fundamental rights in a democracy."
At Christmas, he says, he and his wife gave a party for close friends and neighbors. During the evening, he noticed several boys dropping balloons filled with water off the back deck. Katherine later explained that the boys had come armed with the balloons in case the Scientologists were picketing.
"I thought that was a nice sign of support for her," says Minton, who chooses his words carefully when discussing his children and wife. "The kids in her class knew what was going on because they'd talked about a newspaper article about me in their current events class.
"So yes, Katherine initially exhibited age-appropriate embarrassment but time has made everything less of an issue," says Minton, who adds that his girls understand that his involvement is not going to end any time soon.
Minton says what most sparked his anger were the fliers in St. Barts.
"It was so unexpected. I think that's why it got to me. But it certainly was not surprising because that's the sort of violation of personal boundaries that the Scientologists enjoy," says Minton, who is reluctant to talk about his reactions because he does not want to fuel the Scientologists' tactics. "It was a tactic to make my wife squirm. To make me squirm. They gloated about this incident on the Internet – about their unstoppable reach, that nobody is outside the reach of the Church of Scientology."
Jentzsch says he does not know anything about the fliers in St. Barts but does confirm that "individual Scientologists have distributed fliers in Boston to draw attention to what they felt was Minton's religious bigotry."
Minton's wife, Therese, says she supports her husband. His dedication does not surprise her, she says, because her husband has always had strong beliefs. But does she hope his involvement will end?
"Oh God, I hope so," she says during a short telephone interview. "But I know he has made a commitment and I feel my job is to protect my family and not let all this have a negative effect on our lives. I've tried to make it a positive experience for our girls. That their dad has strong beliefs and it's important to have such beliefs and to stand up for what he believes is right."
She says they don't thrash it out at the dinner table but talk about other things.
"But I guess I do exercise more caution than the girls know about," says Therese, whose family in England was contacted by Scientologists looking into her background. "I look at who's walking down our street when I go out the front door and take other little precautions. But I want everyone to know that we are truly there for him."
Jentzsch confirms that church attorneys retained "qualified investigators" to try to "discover the man's true agenda."
His mother talked
What Minton has found most disturbing is that his mother, son, and brother talked to detectives after he'd warned them to keep silent. He has little contact with them and is openly upset by what he sees as their betrayal.
Detectives "went to where my family works or to their homes and told them that I was being accused of hate crimes against the Scientologists," says Minton. "They said I was giving millions to people who are out to destroy the Scientologists. They told my mother that if I wasn't putting all these millions into a war against the Scientologists, maybe she could have a nicer home. They used the same tactic with my son and he began to question how I was spending my money."
He says his mother probably sat down with the detectives because, like any mother, she likes to talk about her sons. His younger brother, he says, was probably shaken after being told his big brother was under investigation for an extortion attempt against the church. He probably thought, says Minton, that somehow he might get in trouble if he kept silent.
"I guess I didn't do a good enough job preparing my family for the tactics of these people," says Minton, who grew up in Nashville. "My family is Southern and they're not used to dealing with strangers in a forceful way."
Minton's mother, Catherine Minton, says she is surprised by her son's involvement with the Scientologists because she didn't think "he was interested in these sorts of things." She agreed to talk with two Scientology members who arrived on her doorstep, but now regrets that she did.
"I was really upset when they left," says his mother, during a phone conversation from her room in a Florida nursing home. "They wanted to know everything about Bob and it really was none of their business. I wish I'd never let them into my house. I wish I hadn't talked to them.
"What Bob is doing is really his business," she says. "I can't do anything about it. But I sure wish he'd quit fooling around with these people because of his family."
His son by his first marriage, Rob Minton, 30, is more vehement.
"We've always had a rocky relationship," says his son, during a recent phone conversation from his home in Kentucky. "There have always been many problems. He's got a lot of money and he's bored. He doesn't have any hobbies so this has become his hobby – a very expensive hobby at that. But I think it's a waste of time. Why not help underprivileged kids or battered women? Why this? Why didn't he spend this kind of time and energy on our relationship? He never visited me in college and did not come to my graduation. We've never had a father/son relationship."
Minton, in response to the fliers about his family, says that over the years, he has been very generous with family members. He says he took a mortgage on his mother's home to protect her from herself because she has a history of borrowing against the equity and getting herself in financial trouble. He says he did not appreciate his son's questioning how he spends his money, especially the money he paid for the home for the former Scientology couple who wanted to open a cat sanctuary near Seattle. And he says, he will, as promised, give his son a down payment for a home when he marries.
As to the psychiatric problems alluded to in the fliers, Minton says they stem from several days spent in a mental hospital when he was 16.
"My father was very abusive towards my mother, so when I was 16 she up and left," says Minton, whose father owned clothing stores in Nashville. "A week later my father and I got into an altercation and I left the house and took the car."
His father called police and they chased the young Minton through the streets of suburban Nashville until he overturned the car. He was taken to the police station and at 1 in the morning transported to a private mental institution, he says.
"I felt terribly abandoned there," says Minton. "I had no idea how long I'd have to stay or why I was put there. I was locked up in a padded cell like an animal. I wasn't allowed to contact anyone."
On the third day he managed to call his girlfriend's mother, who called his grandfather. The next morning his father and grandfather picked him up and he went to live with his grandparents – permanently.
It was this experience that triggered his interest in Lisa McPherson who, according to Minton and published reports, died after being locked up for 17 days in the Scientology-owned hotel. So far Minton has committed $350,000 to the civil suit.
"Bob is extremely serious about what he's doing," says Dandar, the McPherson 's attorney. "He sees Scientology as a big bully and violator of human rights. He's astounded at what happened to Lisa. And he puts his money where his mouth is. I know he'll see this case through to the end."
Minton says he's never before supported a cause with such passion. He protested the Vietnam War but not with the energy he has devoted to Scientology. It has enveloped him to the point that he's backed away from many of his former activities, such as helping to coach his daughters' Little League team and spending time raising money for his daughters' private school.
What is interesting is that Scientologists have recently requested sit-down meetings with Minton. And he has agreed. Minton met for five hours in Los Angeles and two hours in Boston in a hotel room at the Marriott Long Wharf with two high-ranking Scientologists, Marty Rathbun and Mike Rinder. Minton says he believes the meetings came about because they thought that schmoozing with him might help persuade him to ask the producers of "Dateline" not to air a show on him on June 16.
Jentzsch confirms that they met with Minton but denies that the purpose was to convince him to cancel the "Dateline." "I don't think he could do this, in any event."
Minton plans to meet further with the Scientologists. He says he hopes that might lead to changes within the church.
"My involvement does surprise me at times. It certainly wasn't there at the beginning," says Minton, who notes that the fliers and picketing stopped, with the exception of St. Barts, after he took pictures of the picketers and posted them on the Internet late this winter. "I'm spending all my time on this and I have no thoughts of retreating."
This story ran on page E01 of the Boston Globe on 07/09/98.
© Copyright 1998 Globe Newspaper Company.
The New York Times has a heartbreaking story of disconnection from a Scientologist I haven't heard from before.  Christie King Collbran believes in Scientology but not in David Miscavige.  She and her husband had seen enough of the abuses inside the organization to know something was wrong.  When they went on the net , they discovered they weren't the only ones who felt that way.
Raised as Scientologists, Christie King Collbran and her husband, Chris, were recruited as teenagers to work for the elite corps of staff members who keep the Church of Scientology running, known as the Sea Organization, or Sea Org.

They signed a contract for a billion years — in keeping with the church's belief that Scientologists are immortal. They worked seven days a week, often on little sleep, for sporadic paychecks of $50 a week, at most.

But after 13 years and growing disillusionment, the Collbrans decided to leave the Sea Org, setting off on a Kafkaesque journey that they said required them to sign false confessions about their personal lives and their work, pay the church thousands of dollars it said they owed for courses and counseling, and accept the consequences as their parents, siblings and friends who are church members cut off all communication with them.

"Why did we work so hard for this organization," Ms. Collbran said, "and why did it feel so wrong in the end? We just didn't understand."

They soon discovered others who felt the same. Searching for Web sites about Scientology that are not sponsored by the church (an activity prohibited when they were in the Sea Org), they discovered that hundreds of other Scientologists were also defecting — including high-ranking executives who had served for decades.

Fifty-six years after its founding by the science fiction writer L. Ron Hubbard, who died in 1986, the church is fighting off calls by former members for a Reformation. The defectors say Sea Org members were repeatedly beaten by the church's chairman, David Miscavige, often during planning meetings; pressured to have abortions; forced to work without sleep on little pay; and held incommunicado if they wanted to leave. The church says the defectors are lying.

The defectors say that the average Scientology member, known in the church as a public, is largely unaware of the abusive environment experienced by staff members. The church works hard to cultivate public members — especially celebrities like Tom Cruise, John Travolta and Nancy Cartwright (the voice of the cartoon scoundrel Bart Simpson) — whose money keeps it running.

But recently even some celebrities have begun to abandon the church, the most prominent of whom is the director and screenwriter Paul Haggis, who won Oscars for "Million Dollar Baby" and "Crash." Mr. Haggis had been a member for 35 years. His resignation letter, leaked to a defectors' Web site, recounted his indignation as he came to believe that the defectors' accusations must be true.

"These were not the claims made by 'outsiders' looking to dig up dirt against us," Mr. Haggis wrote. "These accusations were made by top international executives who had devoted most of their lives to the church."

The church has responded to the bad publicity by denying the accusations and calling attention to a worldwide building campaign that showcases its wealth and industriousness. Last year, it built or renovated opulent Scientology churches, which it calls Ideal Orgs, in Rome; Malmo, Sweden; Dallas; Nashville; and Washington. And at its base here on the Gulf Coast of Florida, it continued buying hotels and office buildings (54 in all) and constructing a 380,000-square-foot mecca that looks like a convention center.

"This is a representation of our success," said the church's spokesman, Tommy Davis, showing off the building's cavernous atrium, still to be clad in Italian marble, at the climax of a daylong tour of the church's Clearwater empire. "This is a result of our expansion. It's pinch-yourself material."

As for the defectors, Mr. Davis called them "apostates" and said that contrary to their claims of having left the church in protest, they were expelled.

"And since they're removed, the church is expanding like never before," said Mr. Davis, a second-generation Scientologist whose mother is the actress Anne Archer. "And what we see here is evidence of the fact that we're definitely better off without them."

Ms. Collbran, who is 33, said she loved the church so much that she never thought she would leave. Her parents were dedicated church members in Los Angeles, and she attended full-time Scientology schools for several years. When she was 8 or 9, she took the basic communications course, which teaches techniques for persuasive public speaking and improving self-confidence and has served as a major recruiting tool.

By 10, Ms. Collbran had completed the Purification Rundown, a regimen that involves taking vitamins and sitting in a sauna (a fixture inside every Scientology church) for as much as five hours a day, for weeks at a time, to cleanse the body of toxins.

By 16, she was recruited into the Sea Org, so named because it once operated from ships, wearing a Navy-like uniform with epaulets on the shoulders for work. She fully believed in the mission: to "clear the planet" of negative influences by bringing Scientology to its inhabitants. Her mindset then, Ms. Collbran said, was: "This planet needs our help, and people are suffering. And we have the answers."

Christie and Chris Collbran were married in a simple ceremony at the Scientology center in Manhattan. Although she and her parents were very close, she said they had spent so much to advance up the bridge that they could not afford to attend the wedding.

It was in Johannesburg, where the couple had gone to supervise the building of a new Scientology organization, that Mr. Collbran, who is 29, began to have doubts. He had spent months at church headquarters in Clearwater revising the design for the Johannesburg site to meet Mr. Miscavige's demands.

Mr. Collbran said he saw an officer hit a subordinate, and soon found that the atmosphere of supervision through intimidation was affecting him. He acknowledges that he pushed a 17-year-old staff member against a wall and yelled at his wife, who was his deputy.

In Johannesburg, officials made the church look busy for publicity photographs by filling it with Sea Org members, the Collbrans said. To make their numbers look good for headquarters, South African parishioners took their maids and gardeners to church.

But the Ideal Orgs are supposed to be self-supporting, and the Johannesburg church was generating only enough to pay each of the Collbrans $17 a week, Mr. Collbran said.

"It was all built on lies," Mr. Collbran said. "We're working 16 hours a day trying to save the planet, and the church is shrinking."
There's much more at the New York Times website including a video interview with Christie. I'd like to thank the Times for reporting this story and everyone who agreed to be interviewed.
UPDATE:
Tony Ortega at the Village Voice blogged about the New York Times piece and had some interesting things to say:
The New York Times has just sent a clear endorsement of a Pulitzer for last year's blockbuster series by the St. Pete Times.

Here's hoping the Pulitzer committee is listening.

As someone who has been writing about Hubbard's nonsense for fifteen years, I'm especially grateful to Goodstein and the Times for taking on a subject I didn't want to be bothered with: the mistreatment of Sea Org members.

This has been a drumbeat with church critics over the last couple of years — ABC News took it on in a mostly forgettable Nightline piece — and I've resisted writing about it for exactly the way it comes off in Goodstein's piece.

Critics implore journalists to write about poor Sea Org members, who work long hours for almost no pay, are eternally stressed out and underfed, and who are discouraged from having children and encouraged to get abortions.

When my Scientology sources ask me why I don't seem interested in writing about that part of the Hubbard universe, I try to explain how easy it is for a church supporter to fend off that kind of criticism — which is exactly what happened in Goodstein's piece.

Life in the Sea Org is brutal? Well listen, moron, you signed a BILLION-YEAR CONTRACT to worship and work for a 1930s pulp science fiction hack who invented a religion that believes space aliens have taken up residence in your body — what the hell were you thinking?
While I have the utmost respect for Tony Ortega and enjoy reading everything he has to say on the subject, no matter what you say of a critical nature to a Scientologist, they are going to shrug it off with the same ease.  The blinders are on and the thought-stopping techniques instilled by Scientology training are running at full steam when someone presents "entheta."
But the message being imparted by Rathbun and Rinder now is having a massive effect on the flock.  There are OT's and staff looking at what is being said by people that were held in high esteem and they are listening to that message far more than they would anything I have to say or Tony Ortega would have to say.  That's one of the reasons Paul Haggis left.  That's one of the reasons this couple in the Time's piece left…and it will inspire others to stand up and say, "things have got to change."
It may not be the full message.  It may not be the most important message.  But it's a message a particular audience needs to hear and one worthy of being told.  And if it's told often enough, maybe someone will actually do something about the poor staff who are being mistreated.  It looks like action may be taken in Australia in the near future and that may well change the course of Scientology and David Miscavige's future.
Read Tony Ortega's full blog entry and tell me what you think.
By LUCY MORGAN and THOMAS C. TOBIN
©St. Petersburg Times, published December 23, 1997
By LUCY MORGAN and THOMAS C. TOBIN ©St. Petersburg Times, published December 23, 1997 LOS ANGELES — The Church of Scientology is complaining loudly about a Boston banker's effort to finance anti-Scientology activities, including a wrongful death lawsuit against the church in Tampa.
Scientology has blasted Robert S. Minton Jr. for donating more than $1.25-million to its critics, calling his actions "nefarious" and underhanded. The church contends he is illegally interfering with lawsuits involving Scientology.
But earlier this decade, Scientology officials themselves backed several lawsuits against one of the church's own adversaries, the Cult Awareness Network.
Attorneys and top officials for Scientology say there is no comparison because Minton's motives are "sordid" and their efforts in the lawsuits against CAN were in defense of religious freedom.
"The only thing that's the same is that there are lawsuits involved," said Kendrick Moxon, a long-time Scientology attorney based in California. "If you say that's a contradiction, that's just a lie," he said. "That's just Southern prejudice" against Scientology.
Minton's donations include $100,000 to Tampa lawyer Ken Dandar, who represents the estate of Lisa McPherson in a wrongful death lawsuit against the church.
McPherson was the 36-year-old Scientologist who died in 1995 after a 17-day stay at the church's Fort Harrison Hotel in Clearwater. Police investigators have recommended criminal charges in the case.
In an effort to get more information about Minton, the church is using a bankruptcy case involving a church critic to subpoena records of Minton's donations. At a hearing scheduled today in Tampa, Dandar is expected to argue against the church's effort.
Dandar said he never heard of Minton until church lawyers asked about him this summer. He said he inquired about Minton over the Internet and Minton responded, offering financial aid in the McPherson case.
Minton also has given money to a number of other church critics, including three people whom the church brands as criminals for infringing on Scientology's copyrights.
But Minton's contributions are a fraction of the money and effort Scientology poured into lawsuits that bankrupted CAN, according to a lawyer who has defended the group. Attorney Daniel Leipold puts CAN's legal expenses at roughly $2-million, and "for every nickel we spent, they spent at least a dollar."
CAN was formed in 1973 by California families who had children in cults, but these days a call to the Cult Awareness hot line is likely to be answered by a Scientologist. A Scientology lawyer bought the network's name and hot line after CAN declared bankruptcy in 1996.
For years Scientology had publicly denounced CAN, issuing news releases that accused the group of bigotry, kidnapping and other crimes. CAN countered with public denunciations of Scientology as a harmful cult that breaks up families, fleeces people out of money and endangers the lives of its members.
In 1991, CAN chapters around the country began getting letters from Scientologists who wanted to join the organization. There were strong similarities of language between the letters, which expressed sympathy with CAN's efforts to help people "make responsible and informed decisions when it comes to religious choice."
CAN admitted some of the Scientologists as members but rejected others. Within months, more than 35 discrimination lawsuits had been filed against CAN by individuals in California, Illinois, Washington, Michigan, New York, Massachusetts, Oregon and the District of Columbia. Most were filed in various California courthouses.
Then Scientologists wrote to insurance companies that carried policies for CAN, asking that they stop paying the group's legal bills.
CAN had five mostly part-time employees, a network of volunteers, an annual budget of about $300,000 and an 800-telephone number. Many of the callers were parents worried that their sons or daughters were in cults.
CAN turned to Leipold, an Orange, Calif., lawyer who handled defense cases for medical malpractice insurance companies. Lloyd's of London paid the first $1-million in legal fees and costs, but costs are now double that figure and still counting.
As he defended CAN in the California suits, Leipold found himself in court against long-time Scientology attorneys and other lawyers who were being paid by Scientology.
And, as he took statements from individual Scientology plaintiffs, Leipold found a remarkable lack of knowledge. Several of the plaintiffs said they had not seen or signed the lawsuits, even though the court papers bore their signatures.
Brian Hart, one of the first Scientologists to file a suit against CAN in December 1992, said he did not see the lawsuit until 10 months later — three days before he testified in a deposition.
Hart told lawyers he could not remember how he got the name and addresses of CAN officials. Nor could he remember many other circumstances that led to the lawsuit, including who asked him to write to CAN.
Another plaintiff, Jonathan L. Nordquist of Chicago, fired his attorney and asked a judge to dismiss his lawsuit. He said Eugene Ingram, a private investigator for the Church of Scientology, paid him $300 to have lunch, and he agreed to be a plaintiff. Nordquist said he signed a blank page for Scientology attorneys.
"Scientology planned, instigated, coordinated and sponsored a plan to subject CAN to multiple lawsuits in multiple jurisdictions in order to overwhelm and eliminate it or take it over and control it," said Leipold.
Moxon, the church attorney, said there was no grand plan. "My office handled quite a few of (the cases)," he said. "We understood that type of discrimination."
He said his firm represented the plaintiffs mostly at no charge and that individual churches within Scientology "helped a little bit, but very little."
Most of the CAN lawsuits were dismissed before trial after the organization agreed to allow Scientologists as members, but not before running up the legal tab.
It was a 1994 suit filed in Seattle that was the final straw for CAN. Jason Scott was kidnapped after his mother called a CAN volunteer and was referred to a cult deprogramer to retrieve her 18-year-old son from a Pentecostal group.
Moxon filed suit for Scott and won a $1.8-million verdict against CAN. The judgment has been appealed, but CAN already has declared bankruptcy.
After a Scientology lawyer purchased the CAN name in bankruptcy court, Scott fired Moxon and hired Graham Berry, a Los Angeles lawyer who often has represented clients against Scientology. Now Scott says he believes he was a pawn in Scientology's plan to eliminate CAN. In an interview, Berry called Scientology "a bunch of hypocrites" for complaining about Minton.
But church officials say there is a clear distinction between Minton's activities and Scientology's role in the CAN lawsuits.
Scientologists were working successfully to preserve First Amendment rights for themselves and all religions, while Minton "is funding people who have been proven to be copyright infringers," said Michael J. Rinder, a top Scientology official in Los Angeles. "These people are a pack of criminals," he said.
Rinder also said that Minton, by his involvement in the Lisa McPherson lawsuit, is supporting an effort by Dandar to extort $80-million from the church.
Dandar said the Florida Bar told him the arrangement with Minton was ethical, provided Minton did not control the case or have access to confidential information. He said Minton agreed to those terms and gave the money "with no strings attached."

By LESLIE MILLER, Associated Press
Tuesday, December 09, 1997
BOSTON – A millionaire claims the Church of Scientology intimidates its detractors and prescribed medical techniques that he says killed one member. Church members say the millionaire is using "KKK-style" tactics to discredit the church.
Robert Minton has put $1.25 million into helping those fighting the church. He calls it an exercise of his First Amendment rights.
Members of the Church of Scientology have paid for a private investigator to dig into Minton's private life and threatened to sue him in six states. They call it chasing a rat out of his hole.
A lawyer who has been involved in such attacks – both against and on behalf of religions – said such disputes can go on for years and become very emotional.
"Sometimes reason seems to evaporate," said Lee Boothby, a Washington, D.C.-based church state lawyer.
"All of the very new and small religious groups that feel threatened tend to become very aggressive. The problem of it is, where will it end. I don't know if I see the light at the end of the tunnel."
Scientology, a religion founded on the writings of L. Ron Hubbard, has 700 centers in 65 countries. In 1991, Time Magazine estimated its membership at 50,000 members.
Scientologists have long complained the German government discriminates against them. They compare their treatment to Nazi harassment of Jews in the 1930s.
Boothby doesn't disagree with the analogy.
"When you get to Eastern and Central Europe, where they're passing restrictive legislation, the ones who suffer are not just new, new religions. Presbyterians in the Soviet Union have been evicted by property owned by government. Baptists have been prevented from holding public meetings. There, Baptists, Presbyterians and Lutherans are cults."
Minton's clash with the Scientologists began a few years ago when he was web surfing at his home in the historic Beacon Hill section of Boston.
While observing the news group, Minton took notice of the case of Dennis Erlich, a former Scientologist who had put copyrighted Scientology material on the Internet.
"They obtained an ex parte writ and invaded his home," said Minton. "The cops and their lawyers carted away all this man's computer equipment."
Minton said he was appalled by the tactics used by Scientologists to violate their own members' civil rights.
He contributed $5,000 to Erlich's defense fund.
Earlier this year, he contributed $100,000 to plaintiffs in a wrongful death suit in Clearwater, Florida alleging the church caused the death of 36-year-old Lisa McPherson by holding her against her will and denying her care. Minton said he donated the funds to McPherson's estate because Scientologists had a formidable defense team; he has also pledged another $250,000 to help finance the suit.
Minton said he'd let the Clearwater police decide if the Scientologists killed McPherson.
"Certainly L. Ron Hubbard's medical techniques, which he prescribed Scientologists to follow, killed Lisa McPherson," he said.
Two months ago, Minton bought a $260,000 home near Seattle for two former Scientologists who have testified against the church. The couple claim their landlord evicted them after Scientology officials pressured him to do so.
"Who's behind this guy?" said Kendrick Moxon, an attorney for the Church of Scientology. "The man is going to be sued because he has committed torts all over the country and I want to know why is he trying to destroy religion and create chaos."
Kurt Weiland, a Los Angeles-based spokesman for the Scientologists, accused Minton of "covertly funding, and in this way, manipulating litigation."
Members of the Boston-area branch of the church passed out flyers on Beacon Hill last Friday, denouncing Minton. "This week he is leading a KKK-style rally against peaceful members of a religion," read the flyer.
The flyer referred to Minton's attendance at a rally outside a courthouse in Clearwater, Fla., marking the two-year anniversary of McPherson's death.
Weiland admitted the group's lawyers had hired at least one private investigator to look into Minton's private life.
"If it takes five to get to the bottom of it to find out what are the hidden motives of this man, I will gladly endorse our lawyers to hire five."
Boothby views all that litigation with dismay. "There's more heat than light," he said. "It tends to generate more heat on both sides than is useful."
Copyright 1997, Naples Daily News. All rights reserved.